Cutting Edge Systems
Enhancing Locating Ticket Management
CLI with the help of its technology partnership with ID Technologies, has developed a variety of in-house software & hardware to help with the completion and management of Locating Projects.
CLI has made it a goal to always stay ahead of the technological curb and strives to set the bar high when it comes to technologies used for each locating project. Throughout the years, CLI has refined and developed fully functional ERP-like software and have created advanced methods to provide quick, cost effective and efficient results.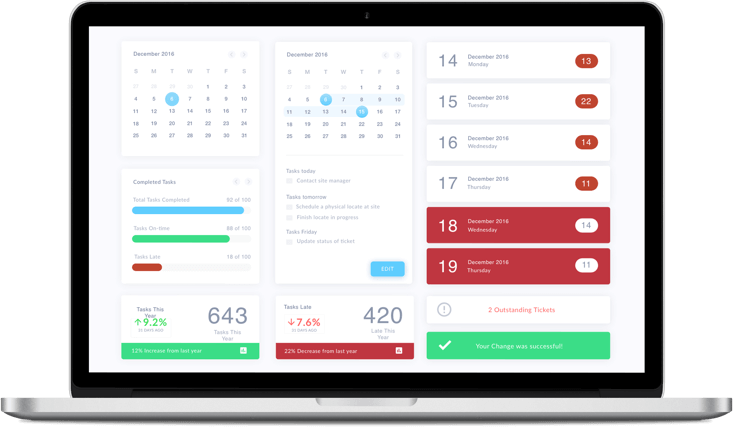 Locate Management
Locating projects are managed from start to finish with precision
Ticket Status
Technologies that track ticket status' and automating each and every update
Innovation
Our company develops a unique dynamically and keeps in step with the times.
01
Locatorbase
Online locate management portal that provides data, statistics, reporting, billing and auditing.
02
Ticket Clearing
Locate ticket clearing software and systems that utilize data to reduce the likelihood of damage.
03
Advanced Scheduling
Logically organize work flows, crews with the interest of reducing operations costs.
04
Hermes
Wireless work order management and GPS fleet tracking for cost management.
Technology & Software Development Firm
A Word from ID Technologies
ID Technologies initially set out with a mission – Become a technological leader by providing global solutions for our users and clients. ID Technologies have since created multiple award winning proprietary platforms which help shape and change the way business, management, maintenance and safety are carried out.
ID Technologies is responsible for assisting CLI with the development of each piece of hardware and software.
Insight and Trends
Recent Articles
Follow our latest news and thoughts which focuses exclusively on insight, industry trends, top news headlines.